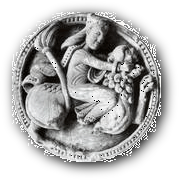 Join Keynsham & Saltford Local History Society to find out more about your area
Since 1965 Keynsham & Saltford Local History has published a great deal of information based on research carried out by its members.
Much of the information has appeared in the Society's Journal which has been published, usually annually, since 1987. Society members receive a copy as part of their annual subscription. Copies of back numbers are also available for sale price £2.50 per journal with the exception of WW1 which is £5. Please click below to see the index of articles published in the Journals.
The following books may also be purchased:-
KEYNSHAM and SALTFORD - Life and Work in Times Past 1539 - 1945
Edited by Elizabeth White (1990)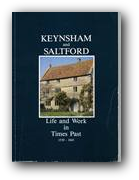 210 x 296 mm (A4), laminated paperback, 118 pp, more than 100 illustrations.
Nine chapters cover many aspects of life in the two communities over four centuries, including famous families and their houses, industry and agriculture, education, health provisions, churches and chapels, law and order.
Images of England - KEYNSHAM
by Barbara J. Lowe and Margaret Whitehead (2003)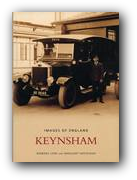 165 x 235 mm, paperback, 128 pp
More than 200 photographs drawn from the Society's extensive archive and featuring all aspects of life in the town throughout the 2Oth century. Captions containing a great deal of information appear alongside the photographs.
Published by Tempus Publishing Limited
KEYNSHAM CAMEO - a Brief History
compiled by Barbara J. Lowe (2000)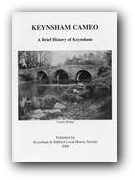 148 x 210 mm (As), paperback, 20 pp, 20 illustrations
An introduction to the town's history, outlining its development from pre-Roman times to the 20th century. Also contains references to further sources of information.
Glimpses of Life in Keynsham Abbey
by Barbara J. Lowe (2008)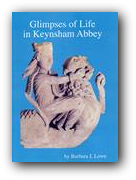 210 x 296 mm (A4), paperback, 40 pp, more than 50 illustrations (including 34 in colour) Printed on glossy paper, this shorter history of the Abbey is based on Keynsham Abbey - a Cartulary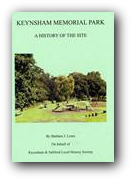 KEYNSHAM MEMORIAL PARK - A History of the Site
by Barbara J. Lowe (2008)
148 x 205 mm, paperback, 54 pp, more than 60 photographs (colour and b & w)
A history of the park's site from Roman times, through the 340-year life of the Abbey and another four centuries until its opening as a public park in 1952 to commemorate the dead of the two World Wars, and its subsequent development right up to the present day.
All books listed above are published by Keynsham & Saltford Local History Society unless otherwise stated.
To purchase any of these books send a cheque payable to Keynsham & Saltford LHS to
Jon Gibbons, 19 Dragons Hill Court, Keynsham, BRISTOL, BS31 1LW.

Add £1 per journal and £2 per book (Keynsham Cameo £1) to cover P&P.
Site designed/maintained by